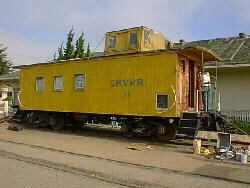 Caboose No. 180 was purchased by the Santa Maria Valley Railroad (SMVRR) in the 1950s. It was sold to Betteravia Farms in the early 1980s. It was donated to the Santa Maria Valley Railway Historical Museum (SMVRHM) and is being restored. At right, August 11, 2001.

More information about cabooses in general, and about the history and restoration of No. 180: PDF [148kb, October 2004]

Rutland caboose, SMVRR No. 200 is at Train Mountain in Oregon.

A third SMVRR caboose, No. 210, sits at the Amtrak station in Guadalupe, CA.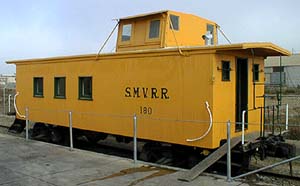 September 14, 2002

The last car on a freight train gots its name from the Dutch term kaban huis or kabuis, literally translated as "cabin house". Before railroads, a cabin house on the deck of a ship was the designated quarters for the cook or the cook's galley. English sailors borrowed the term by the 1700s, shortening it to "caboose". The first use with railroads appeared in the mid-1800s.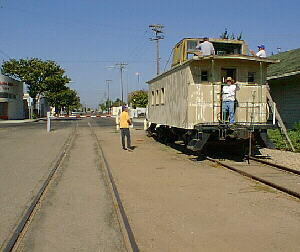 August 25, 2001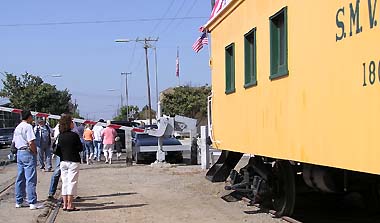 October 2, 2004 Open House
October 2, 2004
SMVRR Caboose No. 180 Open House
For a couple months, No. 180 will be on display near the SMVRR depot at the corner of McClelland and Jones streets and will be open to the public on weekends from 1:00pm to 4:30pm. The depot building is located at the corner of McClelland and Jones in downtown Santa Maria, a short block east of where the railroad tracks cross Broadway. [Yahoo map]

September 2, 2004
Caboose No. 180 is moved to the depot.

November 8, 2003:
Under-carriage is painted
And siding is cleared of brush

September 27, 2003
Roadname and Under-carriage Work

July 12, 2003
Grab Irons, Roof Repair, and Maintenance Placard

April 5, 2003
Some Trimming, Some Painting

March 8, 2003
"Mulehide" Roof Nearly Complete

September 14, 2002
Taking Shape Inside and Out

April 13, 2002
Progress!?

March 9, 2002
What a beautiful interior!

February 23, 2002
The floor turns crimson red.

February 16, 2002
Progress on all fronts into 2002.

December 28, 2001
The caboose is moved to the Larrabee Brothers siding.

December 8, 2001
No. 180 gets its third and final color coat.

October 28, 2001
No. 180 gets its first color coat.

September 1, 2001
While spackling, sanding, and cupola repairs continue, the Union oil drum gets a face lift inside.

August 25, 2001
Spackling, sanding, and primer spotting continue as the cupola rebuild gets underway. (Left/below picture.)

August 11, 2001
Final preparations for a coat of primer inside and out. (Left/top picture.)

December 2000
The SMVRHM accepts Caboose No. 180.