Photo courtesy of Bruce Morden (Oct 2004).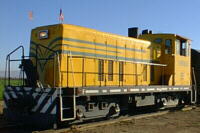 Today's SMV Railroads
The only shortline railroad operating in the valley today is the Santa Maria Valley Railroad. The yard and roundhouse mark the eastern boundary of the operating railroad in downtown Santa Maria. The western terminus, at Guadalupe, is an exchange yard with the Union Pacific main line along the coast. In between are various industrial customer sites, including a line south to the airport industrial area.

Update re. SMVRR Locos, October 7, 2005.

Update re. SMVRR No. 30 and No. 40, April 30, 2005.

A Cab Ride on the SMVRR, Fall 2003.

A Morning on the SMVRR, September 25, 2001.

More Photos on the SMVRR.

Map of the SMVRR.

See sections of Bruce Morden's Santa Maria Valley Railroad: Shortline on California's Central Coast Union Pacific 2001-2002 Olympic Torch Relay Train Visits Guadalupe.