Modelers Meet at the Mall
February 21-22, 2004
Page 1, 2, 3, layout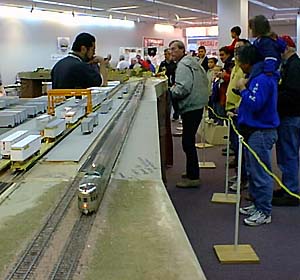 The California Zephyr passes through the North Bay yard.

Freemo standards are set to make sure that the modules line up and connect together successfully. Beyond that, the modelers may do what they will in their module. All the details are available at the Freemo web site.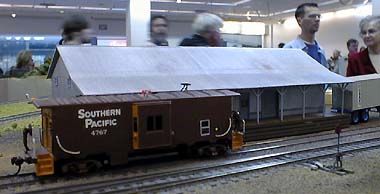 This Southern Pacific caboose sits by a depot building on the Shandin section.

Two television stations (KSBY and KCOY) and several newspapers covered this 1st Annual Model Train Show.



Here's a closeup view of the depot on the SMVRHM downtown yard module.




This Santa Fe freight train crosses the bridge on the Piru section.



This larger-scale Northern Pacific 4-8-4 was on display in the prototype section.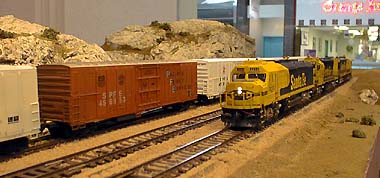 These Santa Fe diesels wait at the end of the line in Arness.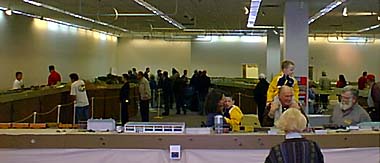 The SMVRHM's modules of the downtown Santa Maria railroad yard are in the foreground with some of the rest of the 7000 square feet of trains in the background.

"Freemo - no gimmicks, no enigmas, no dogmas, just good modeling of realistic scenes."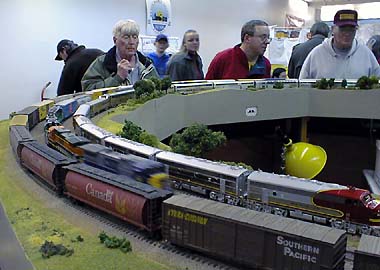 The train on the middle track passes by the stationary passenger train on the inner track and the freight on the outer track. Shandin loop.

Freemo modules are wired for DCC operations with Digitrex equipment. Code 83 rail is used. Some of the modules in today's layout are NMRA standard, which can also be incorporated in a Freemo layout. Freemo began in 1994.



An Amtrak train sits in the Mojave yard.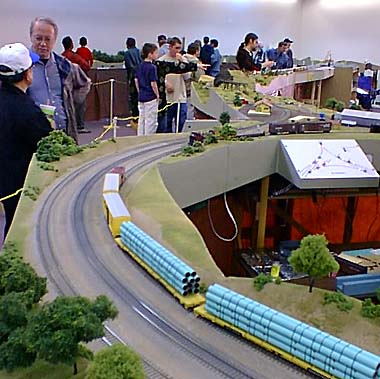 Napa Pipe flat cars sit on the Shandin loop.



The depot in downtown Santa Maria.

...Previous | More...