SMVRR No. 1801
Comes to Bitter Creek Western Railroad
February 15, 2003
All Kevin would keep saying is, "This is pretty cool!" Now there's an understatement for the inaugural run of his brand new SMVRR No. 1801 in 7.5" gauge. This No. 1801 is 1.6" to the foot. And once again, we can't thank Karl Hovanitz and all the great guys at the Bitter Creek Western Railroad (BCWRR) for welcoming us in. We also have some photos of the full size No. 1801 operating on the Santa Maria Valley Railroad (SMVRR). This locomotive was built by Rail Systems Company in Portland, Oregon.

See this No. 1801 at the Fourth Annual "Choo Chew Saturday" at the Bitter Creek Western Railroad on Saturday, May 1, 2004.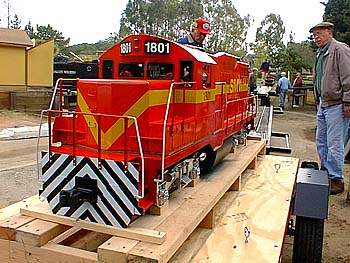 No. 1801 arrived on a trailer....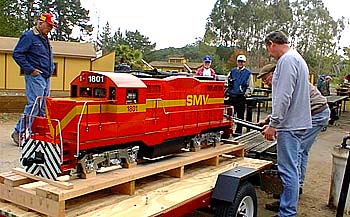 And has pulled up to the pneumatic lift side of the BCWRR turntable.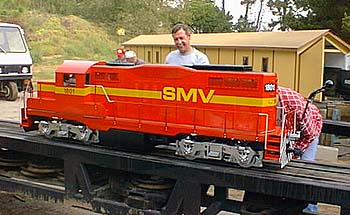 The 800-pound No. 1801 just glided off the trailer and onto the lift. Very slick!



The V-twin, 16HP gasoline engine runs on regular gas. The hardest part of this operation was making the new Cal/OSHA approved gas can work. The engine runs a hydraulic pump which in turn runs hydraulic motors on each truck that drive each axle by chain and sprocket.



With the choke set just right, No. 1801 started right up! The ignition is at Kevin's right hand and next to the on/off switch for the headlight.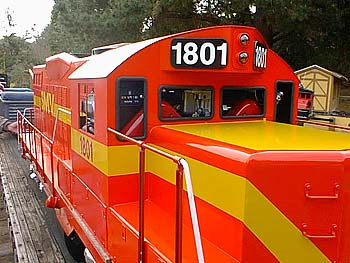 Here's a closeup shot from the front. If it were even closer, you could see that the hour-meter in the window to your left reads .9 hours.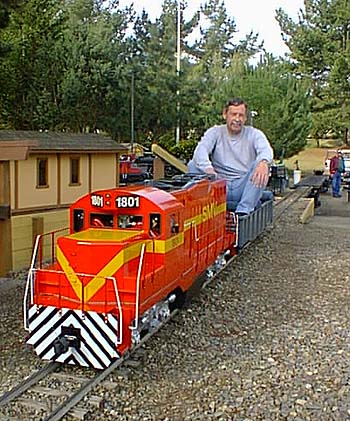 No. 1801 has pulled off the turntable and enters the yard heading for the mainline.

Kevin's pretty excited now that No. 1801 is on the turntable, the engine's running, and he's ready to head out onto the mainline.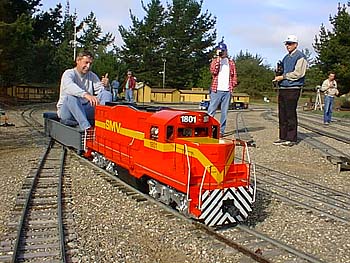 Well off the turntable and into the yard, No. 1801 heads for the mainline.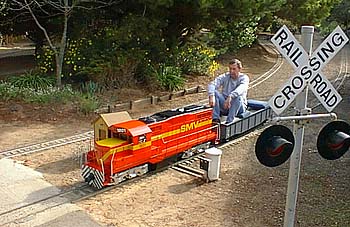 No. 1801 approaches the signaled crossing near the entrance to the Bitter Creek Western Railroad.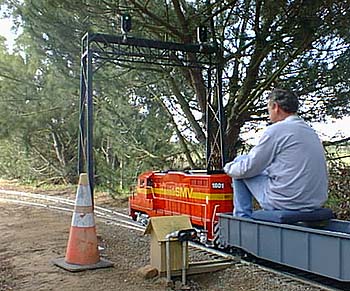 Through this signal tower and No. 1801 will be at the passenger pickup point on the BCWRR.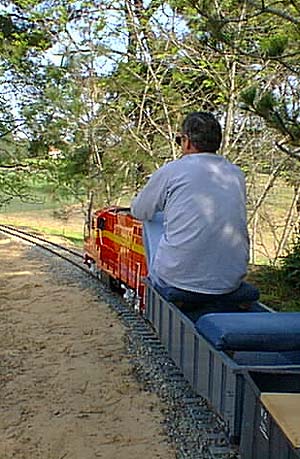 Here the No. 1801 with Kevin at the controls rounds one of the curves along the backside of the BCWRR.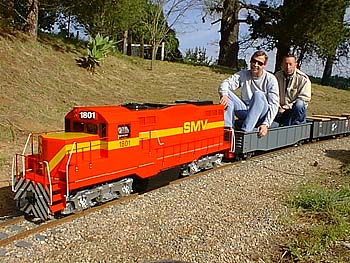 Doesn't the No. 1801 look fabulous out on the mainline!