Fourth Annual
Choo Chew Saturday
May 1, 2004

Karl's No. 4409 and Mike's SP X-1 load at the depot on an absoultely gorgeous day for this event.



Karl engineers his live steamer out on the mainline.



The CPRR No. 229 is loaded for the trip home after a big day on the BCWRR.



The depot passenger boarding area was busy all day!



Harry engineers the Pacific Coast Railway (PCRy) E-2 past the car barn. The picture on the stake shows the view of this area in the 1980s (see historical pictures of the BCWRR).




This event was held at the
Bitter Creek Western Live Steam Railroad
7.5-inch Gauge on the Nipomo Mesa

Train Rides and BBQ for a couple hundred train lovers! All proceeds benefited the Santa Maria Valley Railway Historical Museum (SMVRHM).

Thanks to Bill Foster for taking these pictures.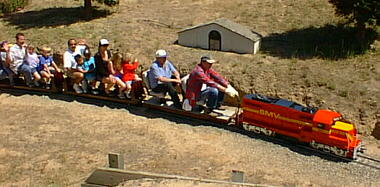 SMVRHM's President Gary Van Aken operates the SMVRR No. 1801 train out on the far turn.



Two live steam locos sit at the roundhouse awaiting the day's activities.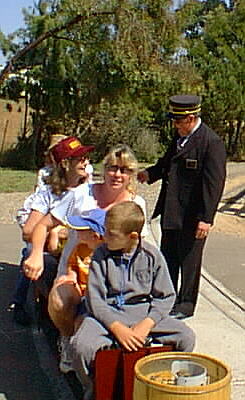 While the conductor checked tickets...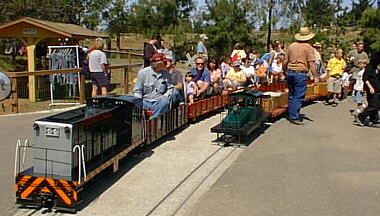 Mike handles the Southern Pacific X-1 while Dennis is engineering the PCRy E-2.