Holiday Open House
at the Museum
December 14, 2002 [press release]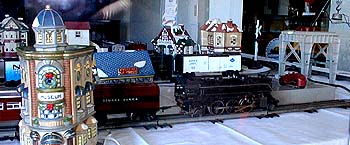 A great time was had by all at the Museum's first Holiday Open House! We even got a little press coverage by KCOY-TV!



Visitors enjoy the various displays in the Museum while another group chats around the punch bowl.



Old Lionel trains bring out a story in nearly everyone's life, and today was no exception. There was more than a little nostalgia over the holiday Lionel display. Chuck (pictured above), one of our Lionel experts, promises bigger and better next year!...



And what Christmas tree would be complete without a train circling beneath it?!



Kids - it's what Christmas and trains are all about! This Thomas the Tank hands-on attraction was made possible by a grant from the Santa Barbara Foundation.



Having your new copy of Railroads of the Santa Maria Valley signed by the author, Hal Madsen (seated out of the picture to the left), brings smiles every time!



Today's visitors spanned several generations. Some got into Thomas the Tank, and others were delighted with the prizes they won, including one of our winners pictured at left above with her new Santa Maria Valley Railway Museum hat!



Here's another picture of the special holiday Lionel display as seen through the front window of the Museum.



Dan, at right, explains that the nifty railroad chandeliers once graced the local McDonalds restaurant!