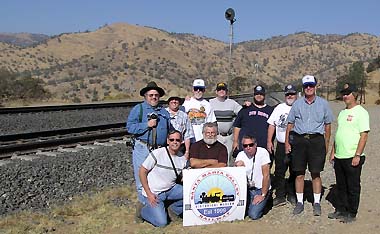 The field trip crew: highline left to right: Chuck, Jamie, Dr. Marcus, Dennis, William, Don, Ed and Barron; front left to right: Kevin, Dick, and Gary. And thanks to our new friend from Lompoc who just happened to be at the loop and took this picture for us.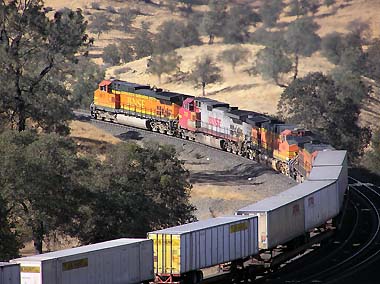 This train is about halfway into the loop and headed uphill.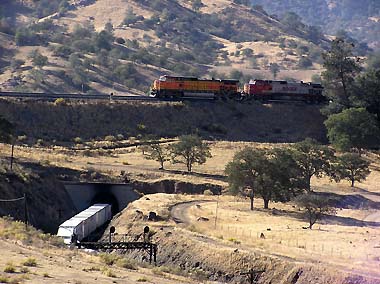 The head (above) is about to "bite the tail" coming out of the tunnel below. From top-of-rail above the tunnel to top-of-rail in the tunnel, trains gain or lose 77 feet while doing the loop.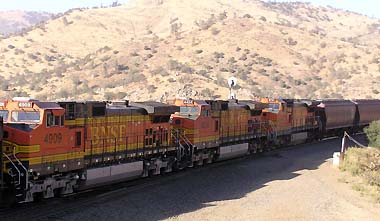 Three helpers in the middle of a unit train of hoppers.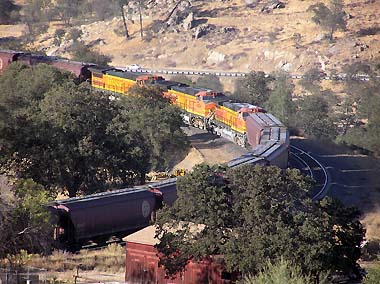 Same three locos (as pictured above) now about halfway through the loop.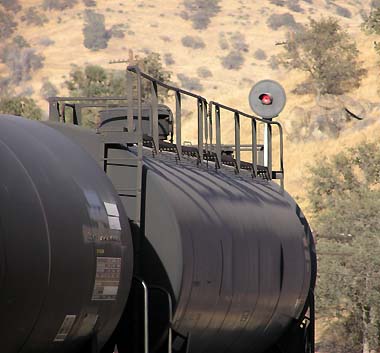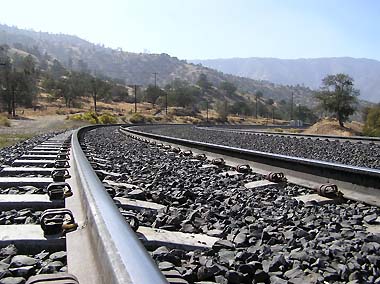 Ground-level view of the tracks just above the loop.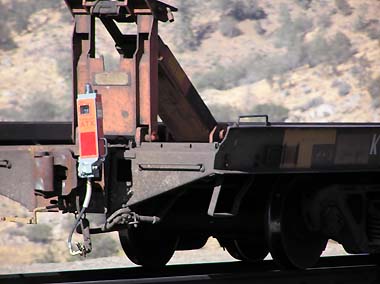 The End-of-Train (EOT) marker (the orange/red device by the coupler) communicates with the engine about the status and position of the rear of the train.




Here's a train wrapped around the hill in the middle of the loop.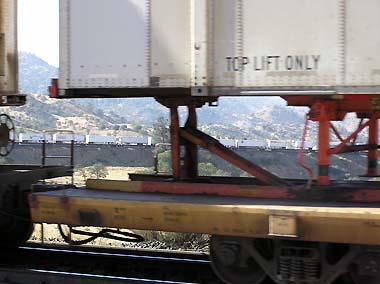 A rear portion of the same train can be seen through this front section.



Contest: There are (at least) two clues in this picture telling the viewer which direction the train is moving. Tell us two clues and which direction the train is moving, and you'll be entered to win a Santa Maria Valley Railway Historical Museum hat. If you were on the field trip, you're not eligible. Contest ends October 31, 2004. Results.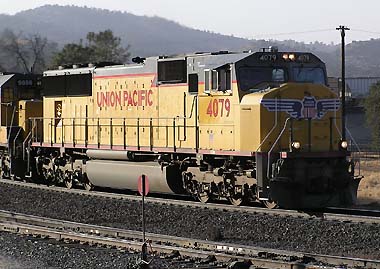 ...Previous | More...

More info on the Tehachapi Loop:
Tehachapi Rail Cam
The Tehachapi Loop
Tehachapi Central.com
Tehachapi Loop (on LetsGoSeeIt.com)
Tehachapi Loop
Tehachapi Loop, CA Map and Railfan Info