Yuletide Layout Tour
December 22, 2002

Page: 1, -2-, 3.

[Click on any picture for a larger version, then use your BACK button to return.]



The toy train manufacturers (Lionel, Ives, American Flyer) were doing quite well, until the Depression. Those years brought very few people able to afford toy trains. Lionel went into receivership. One of its survival strategies was to partner with an up-and-coming creative guy named Walt Disney. Together they created some Disney character paper mache O-gauge hand carts that they sold for $1 from 1934 through 1937. Well, Pluto's was $1.25! Mickey became "the mouse that saved Lionel", though some say it was the Lionel catalogs included in each $1 package that built up a backlog of desire and demand for when money began flowing again.



Lionel only made one war train. It was set #203 and was made from 1917-1920. This collection boasts one of the rare running sets known. Note the detail in the WWI background scene painted by Wayne Scarpaci.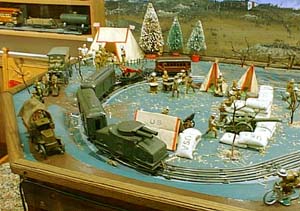 Throughout the displays are tidbits of detail to offer, particularly for school groups. On this layout, depictions are made of the various modes of communication used during WWI, including carrier pigeons, dogs, and radios.



Here's a long shot of the O-gauge layout. Note the railroad engine bell in the upper right corner of the picture. This and several multi-chime whistles were operable from a central set of pull cords over by the conductor's desk. The 6 or so trains on this layout were also computer controlled in a random fashion such that at any given moment none to several of the trains might be running. Equipment on this layout was manufactured from 1938 to 1941.



Fire!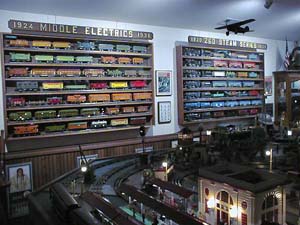 These two wall cases are seen overlooking the O-gauge layout. It's "Middle Electrics" (1924-1936) on the left, and "260 Steam Series" (1930-1937) on the right.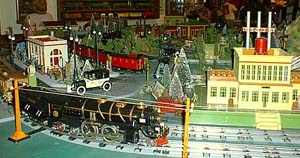 A train pulls out of the station (left) on the standard gauge layout with the power plant pictured to the right.



A close up of the engine above, these 400Es first appeared in 1931 pulling the stunning Blue Comet passenger train of the New Jersey Central Railroad.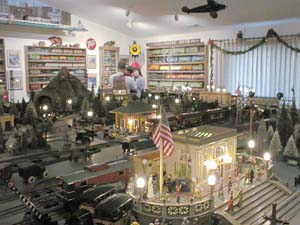 Evening quickly envelopes the standard gauge layout.



The power lines create an interesting visual effect from this angle on the standard gauge layout.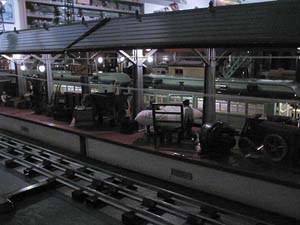 Night comes quickly as the platform crew readies the passenger train for departure.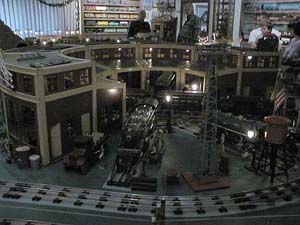 And night comes quickly, too, to the roundhouse which is just behind the passenger station pictured above.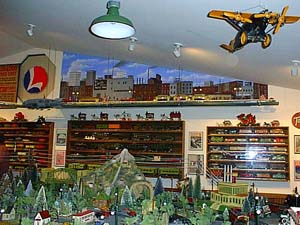 Beyond the standard gauge layout and above the wall cases is the New York City end of the trolley line. This, too, was hand painted by Wayne Scarpaci who noted that there are 350 window panes in this circa 1919 scene!